So I tried out this place after going through a torture session @ Bikram's at Lougheed.  The place is called Dae Ji and is located on the 2nd floor of the plaza @ 4501 North Road. Or something like that. If you get lost don't blame me because it's your fault you took my vague directions without checking google maps like the fool you are.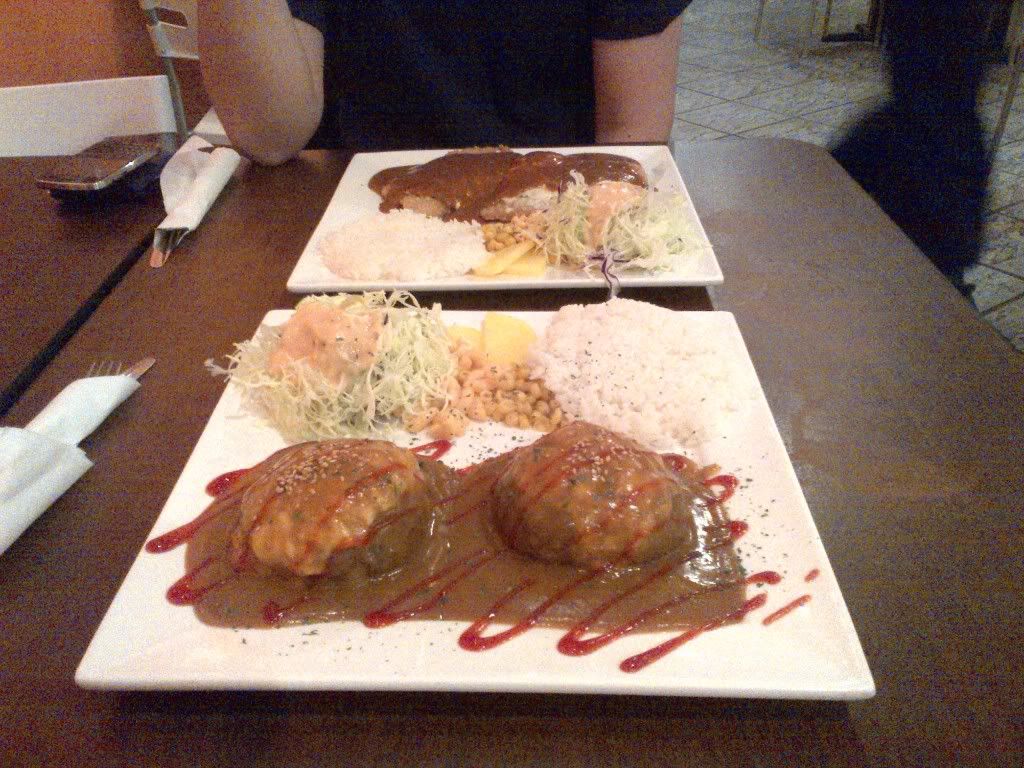 The food here is cheap, filling, and tasty.  Each dish is $9.50.  The total came to $24 tax and tip included. Neither of us ordered anything to drink.  NammerGuy suggested that this place was a better deal and much tastier experience that that fuck-face hell hole place called 29th Ave Cafe.  I've never been there and I never plan to because they charge $10.50 for a similar dish as shown plus an extra $1 for rice.  That's right, they serve you a dish of saucy food and fuck you in the ass for rice.  I've heard the kimchi fried rice is good but I've also heard that it's oily.  As for the curry dishes offered here, I think I'd stay away form them as they are the sweeter/Japanese variety which I do not prefer.
If you're in the area, I would highly suggest giving this place a visit.  I've only had the Cheese Hamburger Steak and Spicy/Regular Cheese Pork Cutlet.  They also offer fish and chicken options for $8.90 each.  I will probably try these the next time I go.  The macaroni salad is also pretty tasty with a nice hint of spice.
On a side note, there is also a Red Bean/Custard/Sweet Rice Pancake stand at the very bottom level of this plaza.  I'm not sure what their hours are but it's $0.75 for Red Bean filled Fish, $1 for Custard filled, and $1 for Sweet Rice Pancake.  They're always open around 10:30am-4pm.  They make 'em good, crispy and cheap. I've never had the custard but my friend says it wasn't that good and will stick with the red bean next time. Fuck the night market and their over priced asshole-attracting food carts.  People that line up for $4 or $5 hurricane potatoes are just….just…I don't even.
Here's some Jack Johnson for your weekend.
http://youtu.be/PEjzRa-fvgk